2022 Inaugural Virtual 5K Run/Walk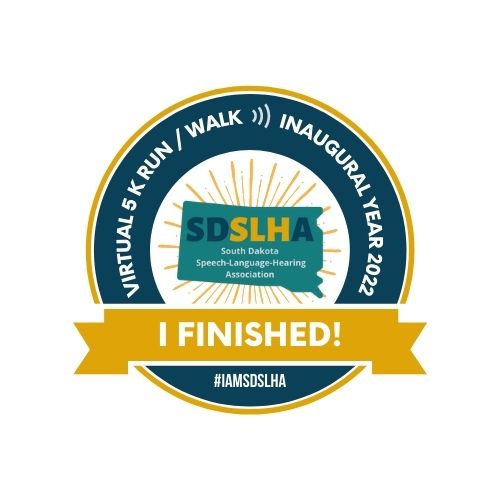 Don't miss it. You'll WANT to get in on this! The prize is ...
To celebrate May is Better Hearing and Speech month, SDSLHA is hosting our inaugural Virtual 5K Run/Walk! During the month of May, SDSLHA members and friends are invited to participate in a fun challenge while supporting the mission of SDSLHA: Empowering speech-language pathology and audiology professionals through advocacy, education, and networking across South Dakota. 
How it works:
Register now at the link below. Print the Runners Bib that will be included in your confirmation email, write your name on the bib, and get moving. 
Registration is $25 (or more) for adults and $10 (or more) for students. When you register, you will be asked to join Team East River or Team West River. Registration (and the challenge) will end May 31 at midnight. 
Pull together a team of friends and colleagues. 

The event is for everyone who wishes to participate! Complete the race walking, running, strolling, biking, whenever it works for you, however and whenever you want!

 Bragging rights for the winning team are on the line, so go big!

Be sure to take lots of selfies and photos of yourself and others you walk or run with. Have some fun with it and post your photos to the SDSLHA Facebook page @SDSLHA and use #iamsdslha.

Once you register, watch your mailbox for a very special mailing to the first 150 people who register!

Don't miss it. You'll WANT to participate! 
The 2022 Challenge is a donation challenge between...East River versus West River. The winning team receives bragging rights for the year! So who's YOUR team? Team East River or Team West River?
June 1 we will tabulate the results, announce the winning team and total dollar amount of your support.