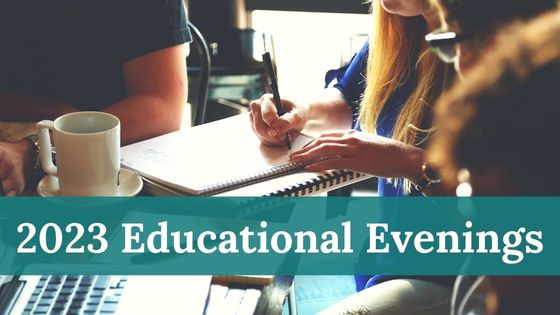 2023 Virtual Workshop Series
Virtual workshops for 2023 are being planned now. This year SDSLHA will be hosting a series of LIVE Educational Evenings. These are available for CEUs. Cost for the certificate of attendance and CEUs options are as follows:
Member Registration WITH certificate of attendance and CEUs: $5.00

Member Registration WITHOUT certificate of attendance and CEUs: Free

Non-Member Registration: Includes certificate of attendance and CEUs: $20.00
Registration and information can be found below. Please note that these workshops are only offered LIVE. No recordings will be available.
---
2023 LIVE Educational Evenings workshops

Literacy Intervention Approaches for Pre-kindergarten Children with DLD
Jess Schneider, SLP-D, CCC-SLP
7:00 - 8:00 pm CST /  6:00 - 7:00 pm MT
SLPs have long been encouraged to actively improve reading abilities, especially with children with evidence of language impairment (Catts & Khami, 1999). Because there is a strong relationship between oral and written language impairments, SLPs that work with young children (in)directly influence the development of a child's literacy skills. SLPs trained in typically developing and disordered language are prepared to assess and remediate reading difficulties (Watson & Gabel, 2002). Children with DLD have significant language development difficulties impacting language comprehension. The negative impact and issues associated with DLD resolidify the importance of early identification in an age group with significant improvements. Early diagnosis and effective treatment can facilitate the planning of targeted interventions before the problems interfere with formal education (Rinaldi et al., 2021).
For time agenda, biographies, and financial/non-financial disclosures click here.
March 20, 2023
Imposter Syndrome
Liz DeVelder, MA, CCC-SLP 
7:00 - 8:00 pm CST /  6:00 - 7:00 pm MT
April 19, 2023
Feeding Tips and Strategies for the Early Intervention SLP
Vanessa Anderson-Smith, MA, CCC-SLP COM
7:00 - 8:00 pm CST /  6:00 - 7:00 pm MT
Treatment Considerations for Brain Injury
Presented by: Heather Hewitt, MS CCC-SLP, CBIS & Rebeca Schmitz, PT, DPT, CBIST
February 2, 2023: 7:00 - 8:00 pm CST / 6:00 - 7:00 pm MT
This course is now closed and completed. If you registered for the course, please complete the Evaluation form provided and the Certificate of Attendance/ASHA form by February 9, 2023 and your certificate will be emailed to you the following week.
---
Continuing Education 
Live workshops will be registered for ASHA Continuing Education credit and a certificate of attendance will be issued.

Recorded workshops will be available when presenters agree to allow recording. These will be available to SDSLHA members to complete for a certificate of attendance. ASHA CE credit will not be submitted for viewing of recorded workshops. Attendees may choose to use submit self-recorded Certification Maintenance Hours (CMH). See below for details.

Using a Certificate of Attendance for ASHA Certification Renewal: Self-recorded CMHs are activities you complete and document, instead of being tracked by the ASHA CE Registry. You do not need to obtain prior approval from ASHA for the activities you choose. The activities will count toward your 3 year interval as long as they meet ASHA's certification maintenance standard for professional development and acceptable activities. You are required to maintain your own documentation for all self-recorded CMHs. You will only need to submit documentation to ASHA if you are notified of being selected for an audit.