Welcome to South Dakota Speech-Language-Hearing Association
Whether you are a professional interested in SDSLHA membership, a related professional looking for information about communication and swallowing disorders, or are a person who is affected by a communication disorder, we are glad you are here! We have a number of different membership categories available for individuals interested in joining the association. SDSLHA members enjoy a variety of benefits including professional networking, regional social gatherings, professional assistance, discounted fees for continuing education events, and more. Our nine regional representatives serve as a contact person for SDSLHA members in the geographic regions of SD, arranging social networking gatherings and communicating happenings in the region to the larger SDSLHA membership. For questions about SDSLHA and services for individuals with communication and swallowing disorders in SD, email us at
 

[email protected]

.
2021 SDSLHA Convention Survey Link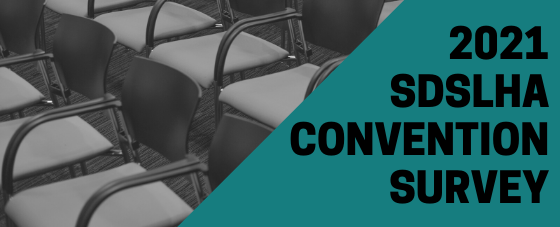 Please complete the survey via the link below to assist the SDSLHA Board with decisions regarding convention in February, 2021.
SDSLHA Management Partner Needed

SDSLHA is currently seeking a Management Partner. The Management Partner works closely with board members, members of the association, and is integral in the business of the association. Additional information and the complete description can be found on our Job Center page.